On 25 and 26 September 2019, Vulkam was invited by the Swiss Chronometry Society to participate in the CIC 2019 in Montreux. Sébastien Gravier (CEO) and Emilia Dupard (Marketing and Communication Manager) represented Vulkam during these 2 days of conferences.
This event, which is a meeting place for all luxury watch manufacturers, celebrated this year the 100th anniversary of Swiss watchmaking research. Thus, the 2 days of the congress were punctuated by numerous presentations in the past, present and future. The various speakers retraced the history of watchmaking research, presented the latest advances of the watchmaking groups' research and development centres, and promoted innovation to prepare for the future.
Our intervention
It is within this last theme that Vulkam presented its know-how, the applications of its Vulkalloys and its high-precision process for watchmaking.
Find in the video below the presentation of Sébastien Gravier during the session reserved for startups: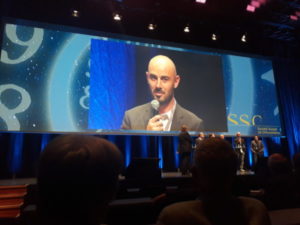 More details on Vulkalloys alloys here and on the process here.
Vulkam increasingly recognized by watchmaking leaders
The year 2019 was marked by many new developments in the watchmaking sector. Leading brands do not hesitate to use new materials to increase the quality and performance of their watches. Thus, the exceptional mechanical properties of our Vulkalloys and the precision capabilities of our manufacturing process caught the attention of the audience. Sébastien Gravier's presentation raised specific questions about the potential of our metal glass alloys for optimizing watch movement parts. Finally, this congress was also an opportunity to re-engage in commercial discussions with several Swiss watchmakers and to initiate new ones.
In short, again it was an event that ended on a positive note for the development of Vulkam!
Are you wondering how our innovative materials can help you differentiate yourself and improve your products? Contact our technical team!
Our other current news:
Returns on the 17th edition of the International Scientific Conference on Amorphous Metals (LAM-17)
VULKAM again present at the international exhibition of high precision actors – EPHJ in Geneva