Since its creation, the medical sector has been one of Vulkam's key sectors. We have developed our partnerships and our research in this direction. Indeed, since March 2019 Vulkam is an official partner of Medicalps and is part of the official supplier catalogue. We also participated in the Medfit show last spring to develop our contacts in this sector. Since then, we have continued to establish ourselves in this sector, where our metals have particularly interesting properties.
Vulkam's recognized medical expertise
This year, Vulkam has established an industrial partnership with one of the leaders in the oral health industry. This marks the beginning of a development phase for a medical device with new properties, which will revolutionize the sector. Further discussions are also underway for precision surgical tools based on amorphous alloys.
Indeed, biocompatible Vulkalloys (amorphous metal alloys developed by Vulkam) have a yield strength twice that of the TA6V alloy. Then, with a resistance equal to that of the TA6V, Vulkam can produce parts half as small. The miniaturization of medical devices and surgical tools is a major challenge for suppliers in the sector. Thanks to our know-how, we can meet them and improve the quality of these medical parts.
Here are two examples: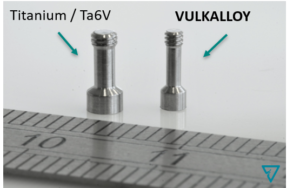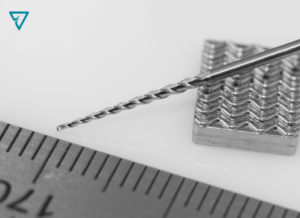 Also, the immersion behaviour of the alloy is excellent (tests carried out according to ISO 10271): the release is about 10 times less than 200 µm/cm²/7d. The surface quality of our amorphous metals are excellent and can be easily modified as required by adapting the mould.
These previously unrivalled properties represent a strong development potential in the medical device sector for our start-up.
Vulkam also plans to perform cytotoxicity and osteogenesis tests to confirm the medical performance of its alloy, which both already appear very promising. In addition, thanks to a patented and highly efficient manufacturing process, Vulkam is able to mould parts with an accuracy of 10 µm. This is another very interesting property for the medical field.
Thus, this dual material/process innovation revolutionizes the world of medical devices and is in great competition with TA6V, the reference alloy in the field.
Indeed, Vulkam's know-how makes it possible to miniaturize devices and produce high-performance parts to perform less invasive surgeries (implants) and be much more precise (surgical tools).
To see how our innovative materials can help you differentiate yourself and improve your products? Contact our technical team!
Our other current news:
Vulkam is also very active in the watchmaking sector
Vulkam awarded Best Industrial Innovation at the 2019 Innotrophées