Miniaturising instruments and implants 
The design of microsurgical instruments and implants is nowadays challenged by a limit to the characteristics of the materials and processing solutions proposed. The DMs must be more efficient, more durable and allow a more precise surgical gesture.
Vulkam has developed a range of innovative Zr-based metals (Zirconium) particularly dedicated to the medical industry. These metals have very high mechanical characteristics and are twice as strong as TA6V.
Coupled with the specific and proprietary process, the resulting components are up to two times smaller, which paves the way for miniaturisation of instruments and implants, and less invasive surgery.

A unique manufacturing process
The outstanding properties of our Vulkalloys® for medical applications can be combined with the proprietary Silicon thermo-moulding process, which allows the mass production of millimetre to micrometre-sized parts with very high precision and the possibility of adding very small functional areas without additional costs.
Indeed, once the alloy has been developed, injection moulding by thermoforming allows the final shape of, for example, forceps tips to be obtained to the desired dimensions, with micrometre tolerances and mirror surface finishes if required.
An industrial chain dedicated to the medical sector
The current processes to produce miniature components often include costly technologies with a succession of more steps such as sheet metal working, cutting, bending, machining, shaping, grinding, reworking, polishing, often manual, as well as heat or surface treatments.
Thanks to its mastery of the entire industrial value chain, Vulkam offers its customers an innovative solution and simplified, accelerated production with reduced costs, in particular by limiting the time-consuming and costly steps required to finish the components.
Thus, the use of Vulkalloys® Zr for medical applications by this process offers a real technological and economical breakthrough for the production of miniature components constituting microsurgical instruments or implantable devices.
 Applications:
Medical devices for minimally invasive surgery and dentistry, high precision instruments: forceps, biopsy, suture, endoscopy, optical,
Microimplants for dental or endodontic use.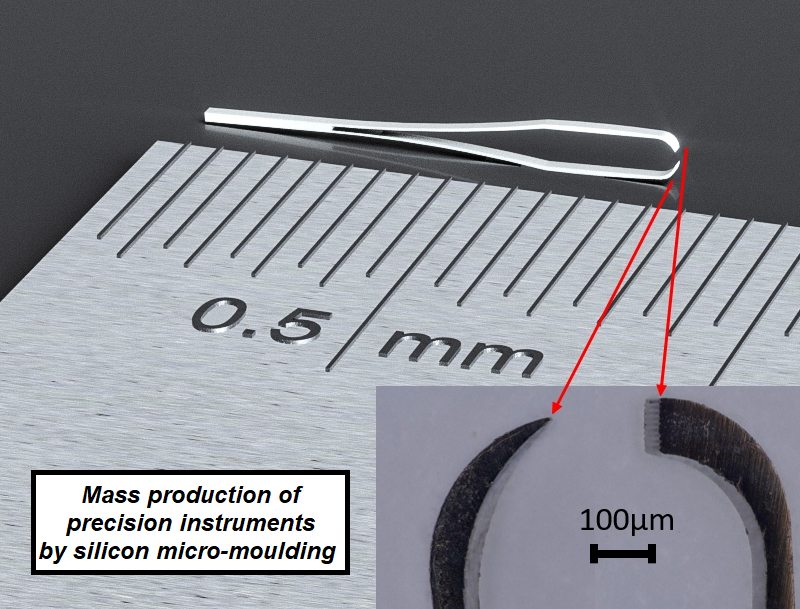 To learn more: The new Vulkalloy® Zr-Med alloys for the miniaturization of medical and surgical instruments